Vuele Para Su Cirugía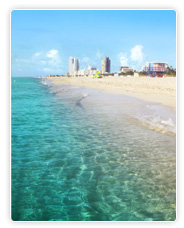 Pacientes de todo el mundo viajan a Miami al Laser Eye Center of Miami para su cirugía de LASIK y otros de los muchos servicios que aquí ofrecemos. Nuestro centro es reconocido por el renombre de su cirujano, nuestro personal amistoso y cariñoso combinado con la mejor tecnología disponible. Estamos localizados en Coral Gables, "La Cuidad Bella" conocida por su elegancia, color, detalle y su estilo arquitectónico mediterráneo. El Laser Eye Center of Miami está a solo 5 millas del Aeropuerto Internacional de Miami, y a diez minutos de South Beach.
El cuidado avanzado en la medicina es solo una de muchas razones para venir de visita a "la cuidad del sol". Mientras usted está en Miami esperamos pueda disfrutar de las innumerables atracciones que encontrará aquí. Por ejemplo las hermosas playas, las noches de moda, el distrito Art Deco, la diversidad cultural y sus actividades, y mucho más. Esperamos que la siguiente información sea de su ayuda mientras planea su visita y durante su estadía esta bella cuidad.
Para más información sobre eventos y atracciones en Miami, visite www.miami.com.
Para información sobre transportación pública en Miami visite www.miamidade.gov/TRANSIT/.
Hotels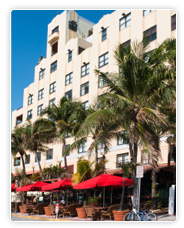 Hyatt Regency Coral Gables
(0.3 millas de Laser Eye Center of Miami)
50 Alhambra Plaza,
Coral Gables, FL 33134
(305) 441-1234
Extended Stay America-Miami-Coral Gables
(0.5 millas de Laser Eye Center of Miami)
3640 SW 22nd St.
Miami, FL 33145
(305) 443-7444
Transporte disponible
Más información
The Westin Colonnade Coral Gables (0.5 millas)
180 Aragon Ave.
Coral Gables, FL 33134
(305) 441-2600
Courtyard Miami Coral Gables (0.5 millas)
2051 South Le Jeune Rd.
Coral Gables, FL 33134
(305) 443-2301
Historic Biltmore Hotel and Resort Coral Gables (2.0 millas)
1200 Anastasia Ave.
Coral Gables, FL 33134
(305) 445-8066
Hotel Urbano (3.8 millas)
2500 Brickell Ave.
Miami, FL 33129
(305) 854-2070
JW Marriott Hotel Miami (4.2 millas)
1109 Brickell Ave.
Miami, FL 33131
(305) 329-3500
Conrad Miami (4.6 millas)
1395 Brickell Ave.
Miami, Fl 33131
(305) 503-6500
Transporte
Servicios de taxi y limosina
Super Yellow Taxi
(305) 888-7777
Coral Gables Taxi
(305) 888-7777
Miami Dade Yellow Taxi
(305) 633-0503
Super Shuttle
(305) 871-2000
Limo Miami
(305) 742-5900