Also serving patients in Fort Lauderdale
Serving Patients in Miami and Ft. Lauderdale
What is Glaucoma?
Glaucoma is a condition where the intraocular pressure is high enough to gradually damage the optic nerve, causing progressive loss of the peripheral visual field. Laser Eye Center of Miami has eye surgeons that specialize in glaucoma treatment and surgery.
Types of Glaucoma
Chronic Open Angle Glaucoma
The most common type of glaucoma is chronic open angle glaucoma in which there is a blockage to the outflow of the aqueous humor at the molecular level. It is painless progressive gradual decrease in peripheral vision. The absence of symptoms in this type of glaucoma is one of the reasons why periodic ocular examinations are so important. Besides checking the intraocular pressure, the eye doctor will perform computerized visual field testing and will objectively measure the optic nerve.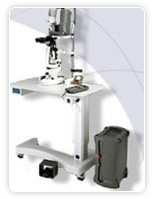 At the Laser Eye Center of Miami we have one of the few Optical Coherence Tomography (OCT) units available in South Florida. The OCT is the most accurate method in the management of glaucoma to measure the optic nerve and the nerve fiber layer.
The main goal in the treatment of open angle glaucoma is the lowering of intraocular pressure. It could be accomplished with glaucoma eye drops, with Selecta Trabeculoplasty laser, or conventional surgery. At the Laser Eye Center of Miami we have Selective Laser Trabeculoplasty where a mild laser is used to improve the outflow of aqueous minimizing the use of conventional drops.
Angle Closure Glaucoma
Angle closure glaucoma is where the iris or colored part of the eye blocks the exit of the aqueous humor. It can be very painful manifesting as a red eye with blurred vision. A small opening in the periphery of the iris is done in the office using an Argon Yag laser to relieve the build up of aqueous and lower the pressure.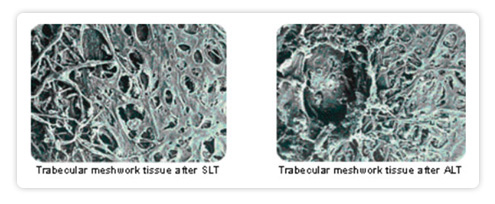 Learn More
If you would like our eye surgeons to diagnosis or to learn more about our glaucoma treatment options, contact our Miami office by calling (305) 443-4733 to schedule a consultation.