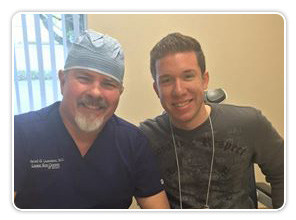 I cannot be anymore thankful and blessed. Thank you Dr. Lazcano, Dr. Awad and all of the staff over at Laser Eye Center of Miami. I can see 20/20 now! The environment and services provided were phenomenal and I would not recommend any other place for anyone considering to get laser eye surgery.

Michael Brainerd
---


First and foremost I would like to thank the Staff from the Laser Eye Center of Miami for making my visit and, especially, my procedure a pleasant one.
At first I was hesitant to try Lasik surgery due to the idea of having a procedure done in my eyes. But fortunately I was well educated on the matter from the professional staff before hand and they made me feel comfortable that everything will go well. As it did. They explained to me the procedure in detail as well as the
recuperation process that I will undergo. Its been 2 weeks since my operation and I have to say that my vision is perfect!
I wake up in the morning appreciating life a little bit more and its thanks to the Laser Eye Center of Miami and Dr. Gabriel Lazcano.

Paul Sanchez
---

After ten years of depending on glasses, I am very happy and impressed to be able to see without them.
I felt very comfortable throughout the whole process and in particular I was impressed with the professionalism of Laser Eye Center of Miami during the pre and post-operative exams. The staff is super nice and formal.

If I had to go back in time I would do it all over again.
Claudio Garcia
Miami LASIK Patient
---


Thank you for my life changing experience, now I am
20/20.

Willy Chirino
---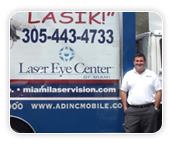 Over 5 years ago, it would take a sign this big for me to read from few feet away….
Thanks to Laser Eye Center of Miami, I enjoy not wearing glasses or having to read from signs this big since!

Jason Mizrachi
Miami LASIK Patient
---


I have literally forgotten that I was once legally blind…Thanx Laser Eye Center of Miami, I can now see how sexy your help is.

Enrique Santos
---


After wearing glasses and contact lenses for the past seventeen years I was ready for a change. Laser Eye Center of Miami's LASIK procedure offered me an opportunity to correct my myopia and astigmatism in minutes without pain or discomfort. As a corporate executive and active sports enthusiast, I noticed an immediate difference and was able to resume my hectic schedule the very next day. I highly recommend Laser Eye Center of Miami to all my friends and business associates. His expertise and professionalism have made a tremendous impact in my life. My sincerest thanks to entire staff at Laser Eye Center of Miami.

Paul F. Guelmes, Executive
---


I had LASIK surgery after many years of having to deal with contact lenses and glasses. I am extremely happy with the results and convinced that it was the best thing I could have done for my eyes. I thank the staff at the Laser Eye Center of Miami for making this a wonderful experience.

Hank Garcia-Mino
Miami Laser Eye Surgery Patient